The author, Uliana Hlynchak, in Windsor. Photo courtesy of Uliana Hlynchak
Road Trip to Windsor
Uliana Hlynchak
March 24, 2021
We travelled to the end of Canada's 401 highway to Windsor. At least, that's how I imagined it. The road was empty; hardly any cars. The landscapes bathing in the afternoon sun promised the velvet evening of an Indian summer.
The Detroit River met us with a light chill breeze. Across the river, the urban landscape of Detroit glistened in the setting sun. Along the river's Canadian side was a strip of hotels. We didn't book any room ahead. During pandemics there's no problem finding a room on arrival day. Or so we thought.
"Let's check this one."
We walked to the hotel entrance: Temporarily Closed.
"Let's go to this neighbouring one…"
After a short walk we met the same sign: Hotel temporarily closed for business. We walked further. Finally—an open hotel. But we didn't go inside; all this room hunting made us hungry for dinner.
Behind the main street there were two patio restaurants. Italian was busy and French was empty. Italian had music and a lovely crowd. We took the last table on the patio.
The perfect dinner and slow service let us enjoy every moment of each other's company. Our trip was long overdue. We love travelling and move easily without specific plans; before the pandemic, we explored cities in Europe or South America. Now, we were happy for the opportunity to travel locally.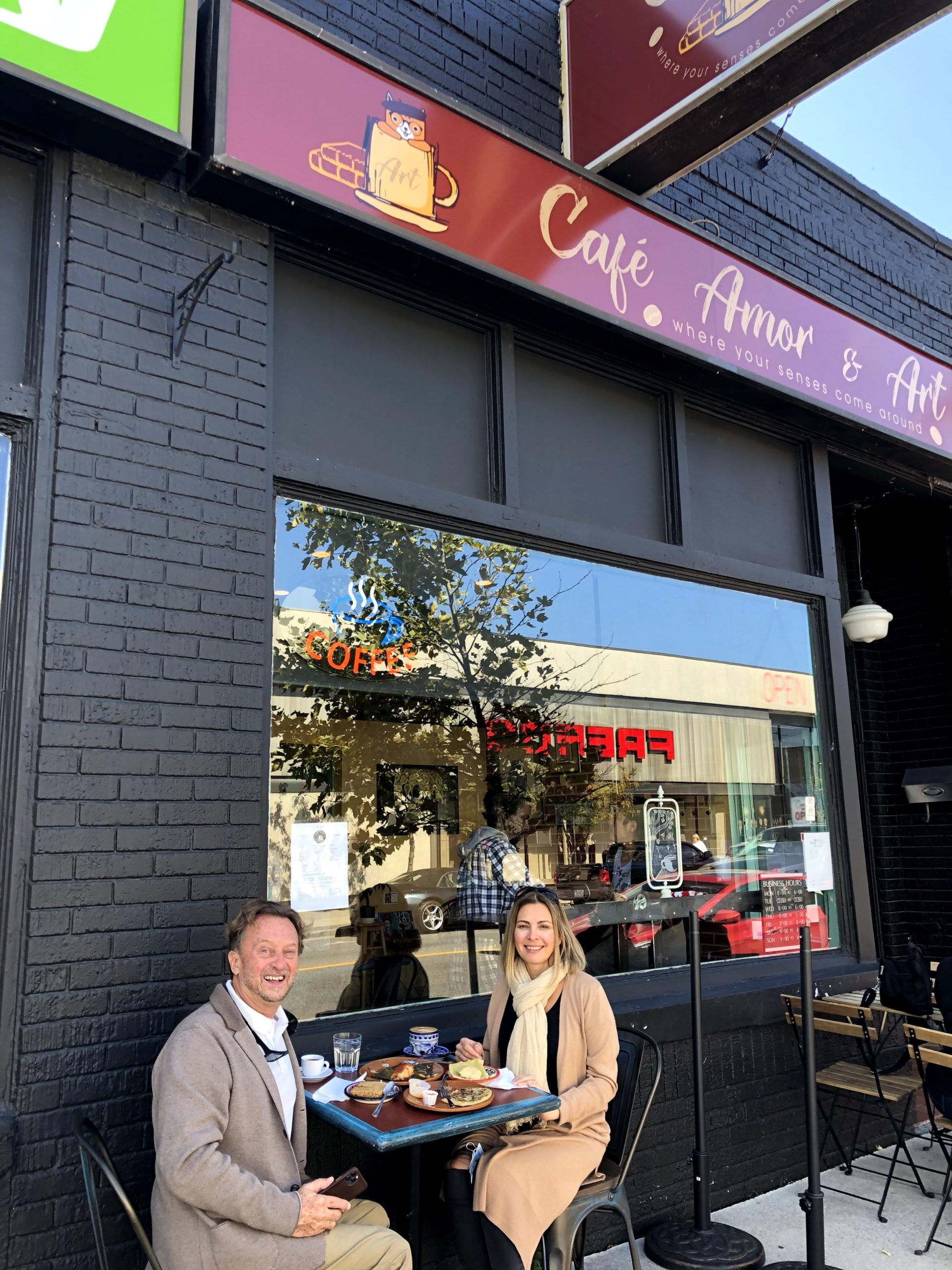 Enjoying breakfast at Café Amor & Art. Photo courtesy of Uliana Hlynchak
The hotel registered us in a flash. My partner went to park the car while I enjoyed a bath.
"There's no showercap in the room. Could you get one at the reception please?" I texted and smiled at the absurdity of my request. But I didn't want to wet my covid haircut, since my hair had grown long and it took some time to manage. Tomorrow I had a livestream appearance.
"Disaster," he texted.
I laughed. He did bring me that showercap. I did save my hairdo.
"We love travelling and move easily without specific plans; before the pandemic, we explored cities in Europe or South America. Now, we were happy for the opportunity to travel locally."
In the morning, the Detroit River lay in full beauty. The busy cityscape behind it was in its Sunday best. I imagined a time when this river was busied with boats and barges, with heavy smoke coming out from smokestacks.
"We need to rush to the unveiling ceremony, but first let's find a nice breakfast place," he said.
And we did. On Ottawa Street. Café Amor & Art: where South American food, literature, and art are served. Their chef explained Latin American items on the menu: chicken or sweet corn tamales, pupusas, empanadas Colombianas, and many more. They proudly served our breakfast in South American style pottery with bright and beautiful ornamental decor.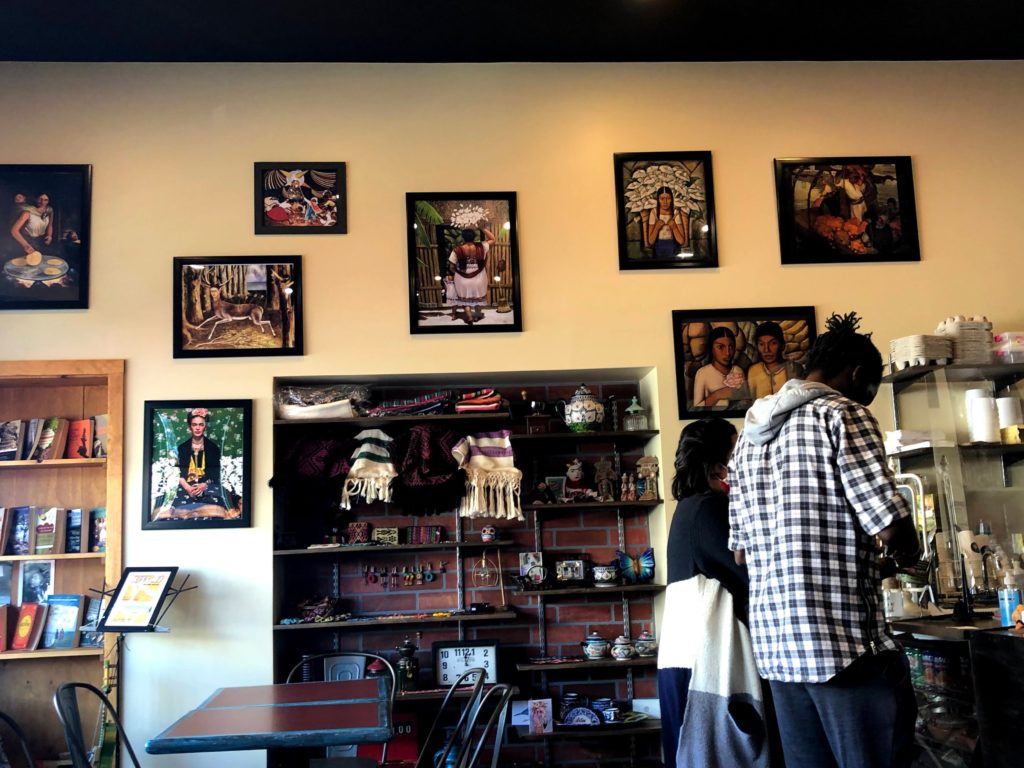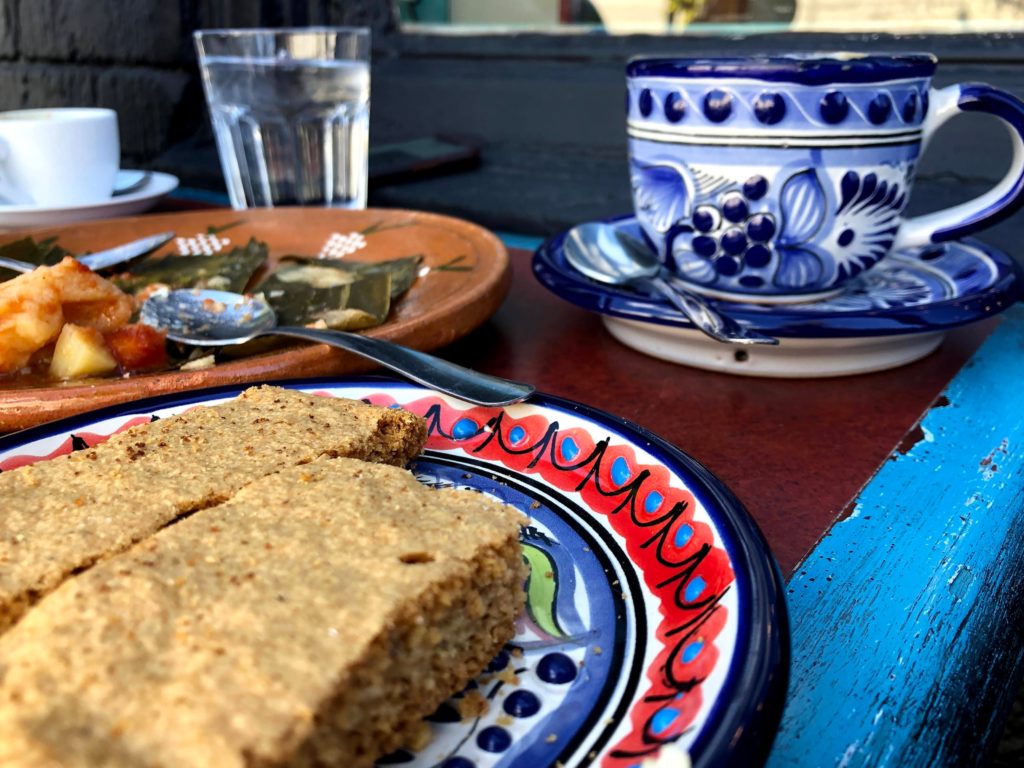 Inside Café Amor & Art (top) and their patio breakfast (bottom). Photos courtesy of Uliana Hlynchak
We made it on time to our engagement as it was only a block away. The Ukrainian National Federation held a mural unveiling on the side of its building. The ceremony was heartfelt as most public events are online these days. Steve Romaniuk's mural depicted two dancers whirling in Ukrainian dance costumes; I could almost hear the music.
After the unveiling, I hoped to return back to Café Amor & Art for their Latin American soup dish, but our Ukrainian hosts didn't let us go without welcoming us with a full buffet of Ukrainian dishes. What beautiful people of Windsor; we will be back.
Oh, yes. I brought the showercap with me. Not taking any chances to end up somewhere without it until I cut my hair. But again—where will I go? For now, it's a no to nonessential travel.
Uliana Hlynchak is a Toronto-based producer and journalist for KONTAKT TV, a weekly Ukrainian TV show. She works with young talents on developing the show Kontakt Next Gen. She is a member of the Board of Directors at the Canadian Ukrainian Art Foundation and volunteers for the Toronto Ukrainian Festival. Her most recent projects are interviews on the contemporary art scene Art Talk and the webinar series Contemporary Ukrainian Émigré and Diaspora Literature. Uliana writes articles, poetry, and short stories in Ukrainian and English.