Illustrated by Katharina Davoudian
Mango Sorbet
Enri Boshti
March 7, 2021
Tucked away in Toronto's vibrant Kensington Market is Dolce Gelato—a café serving coffee, desserts, and of course, gelato. Their mango gelato is arguably the most wonderful treat on a hot summer day, which I was looking forward to indulging after a particularly chilly winter. Unfortunately, quarantine crushed my gelato dreams and I was left to improvise. I scoured the internet for an alternative to mango gelato to satiate my craving and realized I could make mango sorbet, where water substitutes dairy. As I don't own an ice cream machine, a little manual mixing was involved during the freezing process, but the effort is worth it for delicious mango sorbet!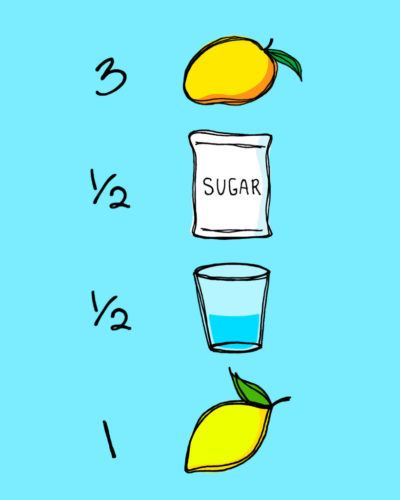 Ingredients
3 mangoes cut up and cubed
1/2 cup sugar
1/2 cup water
lemon juice from one lemon
Steps
1. Cut your mangoes into cubes and add to a blender.
2. Add sugar, water, and lemon juice to the blender.
3. Blend on high for a few minutes until smooth.
4. Transfer mixture to bowl, cover with plastic wrap, and place in freezer.
5. To prevent the formation of a giant mango popsicle, remove mixture from freezer and stir well every half hour for 4 hours before placing back in freezer.
6. Remove from freezer and allow to thaw before serving and enjoying!
Enri Boshti is a recent graduate from the University of Toronto, having studied neuroscience and biochemistry. Looking at the world through the lens of a vintage camera, she's inspired by the simple pleasures in life like a warm mug of tea and a view of the moon on a clear night.